For anyone who doesn't own a drill and are thinking of investing in one for a forthcoming DIY project it can become a little confusing when you search online, or pop into your nearest DIY merchant. One look at the options show there are a huge range available and picking out the right one can prove to be a daunting and expensive experience if you choose the wrong piece of equipment or accessory.
Not only do you have to take into consideration the type of drill you need, along with the right bit to suit the material, but each model comes with a long list of features and you need to make sure you are getting true value for money.
Our guide to types of drills is designed to help you see through the confusion to make an informed purchase. We'll provide an overview on some of the most common types available and the materials they are best suited to, so you can begin your search for a new drill armed with all the basic knowledge you need.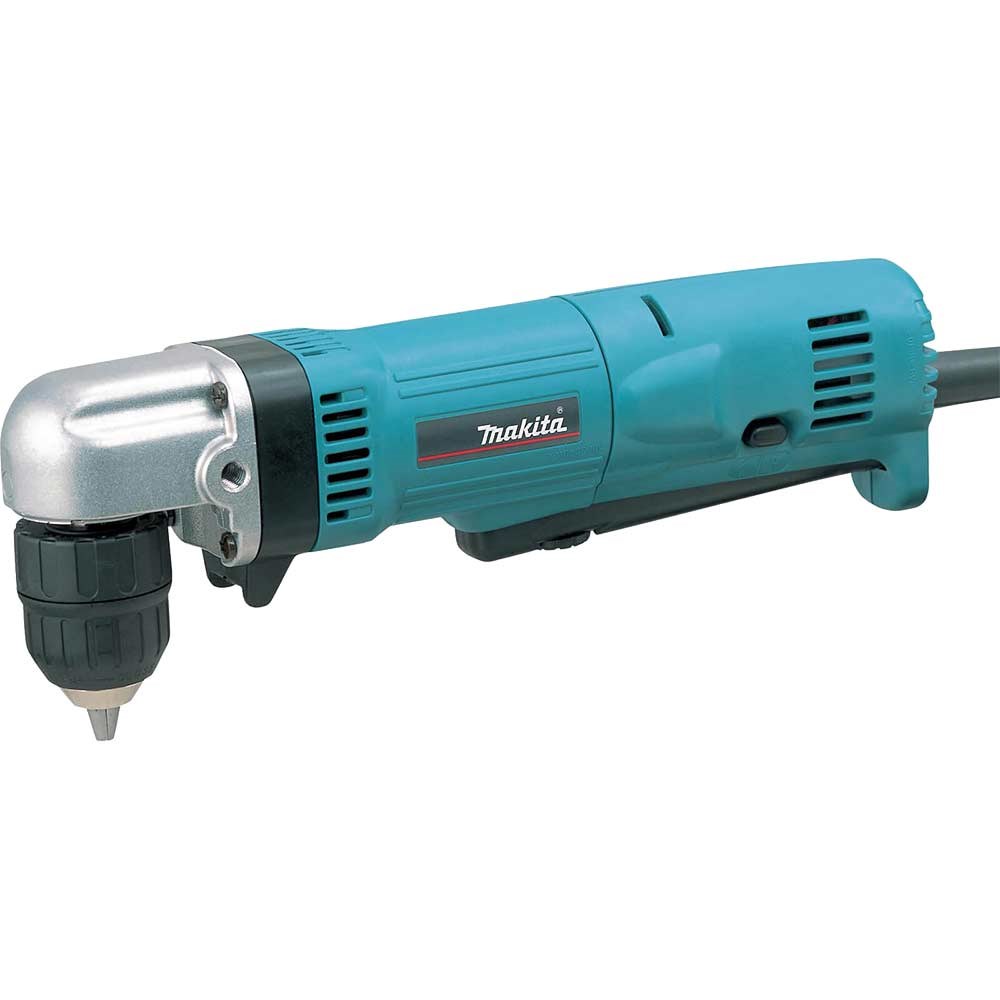 What Is An Angle Drill?
Although the chuck is orientated at a 90-degree angle to the body, angle drills effectively have the same level of functionality as found in a standard rotary drill. The placement of the chuck makes it perfect for use in awkward or confined spaces, so it is much easier to complete the job at hand to a high standard.
Angle drills ensure there is sufficient power available when it comes to boring into materials where there isn't sufficient leverage to produce it manually. Another common name given to this type of power tool is a right-angle drill, due to the position of the chuck in relation to the user.
What Is A Combi Drill?
There are a lot of similarities to be found between a combi drill and a drill driver thanks to its all-round adaptability. The ribbed, metal discs that react against each other enable it to hammer the drill forward which makes it an even better choice for use on tougher surfaces such as masonry.
Take a look at the Hitachi DV18DBXLJX Brushless Combi Drill that has hard torque and a brushless motor that enables you to complete jobs faster and more accurately.
Care should be taken with the speed settings where high torque is required, and diamond or carbide tips work best when drilling into masonry while it is set to a slower speed. The opposite is true for wood and metal which allow for higher drill speed settings.
What Is A Demolition Drill?
As the name suggests, demolition drills are used to break down the hardest of materials and are put to use in small and large-scale demolition jobs. These can sometimes be much larger and heavier drills than normal and are utilised for breaking down surfaces such as walls or large slabs of concrete.
In most cases a demolition drill will feature a SDS shank which allows the bit to easily slide into place without having to tighten the chuck.
The Makita HM0810T Demolition Hammer is a lightweight demolition drill that can swivel 360° for convenience and features a rubber grip to help minimise vibration.
What Is A Drill Driver?
For anyone requiring a drill that is adaptable enough to work on any number of small jobs around the house, then a drill driver is the ideal choice. Their versatility means they are able to drill holes and also tighten and loosen screws. A reliable option here is the Makita HP347DWEX3 Drill driver that has a maximum torque of 30Nm and features a 10mm keyless chuck
When used with different drill and screwdriver bits they can be utilised effectively on a range of different surfaces and materials, including wood and metal. For anyone who has purchased new furniture or are planning to install new shelves somewhere around the home, this is a great way to get the job done quickly and finished to a high standard.
What Is A SDS Drill?
SDS is an abbreviation for Special Direct System. This alludes to the greater energy it is able to deliver per blow compared to a conventional hammer. Special SDS drill bits are used to prevent it from slipping during use and to withstand the increased level of force being applied.
This is why it is the go-to choice for trade workers when it comes to drilling into engineering blocks or hard masonry as it is able to create the desired hole in no time at all. SDS drills produce a high quality standard of work and while the initial financial outlay is often higher, the long term savings made in terms of both time and money is what makes the investment worthwhile.
For an example you can review the Bosch GBH36VF-LI Plus SDS Rotary Hammer which is as powerful as a corded SDS drill and comes with a with a quick-change chuck.
What Is A Diamond Core Drill?
Diamond core drills are primarily used by people who need to drill holes suitable for pipe. You need to use a diamond core with it to drill the holes.
See the Makita 8406C Rotary Percussion & Diamond Core Drill which uses rotary action and is ideal for drilling larger holes up to 152mm.
For this reason, it is mostly professionals that tend to use diamond core drills as the risk of injury is significantly higher due to the power they produce. Many now have safety clutches integrated into their design to improve protection for the user.
What Is A Percussion Drill?
By delivering a succession of fast blows into the surface material, percussion drills are able to hammer through tougher materials such as rock or masonry. The two cam plates create the in-and-out motion of the chuck which enables it to drill through into more brittle surfaces such as limestone and light concrete.
There are similarities to be found between a percussion and a rotary hammer drill. Although because the hammering action is controlled by the rotation of the chuck, this means a percussion drill must always work in rotation, unlike a hammer drill.
Makita HP2071F Percussion Drill features a keyless chuck and has been specifically designed to reduced operator fatigue and also comes with side handle and Depth Gauge.
What Is An Impact Driver?
Impact drivers are mostly used in high speed, high torque and high impact applications. Screw driving is the most common usage but due to its compact size they can also be put to use for drilling if required. Its ability to deliver a strong downward force and perfect rotation is really what sets it apart.
The hammering action of the impact mechanism ensure screw heads are less likely to be stripped as they are turned quickly and with efficient force. The design of an impact driver also means it produces a very low recoil which allows for one-handed operation on most occasions.
The DTD152Z is one that we would recommend.